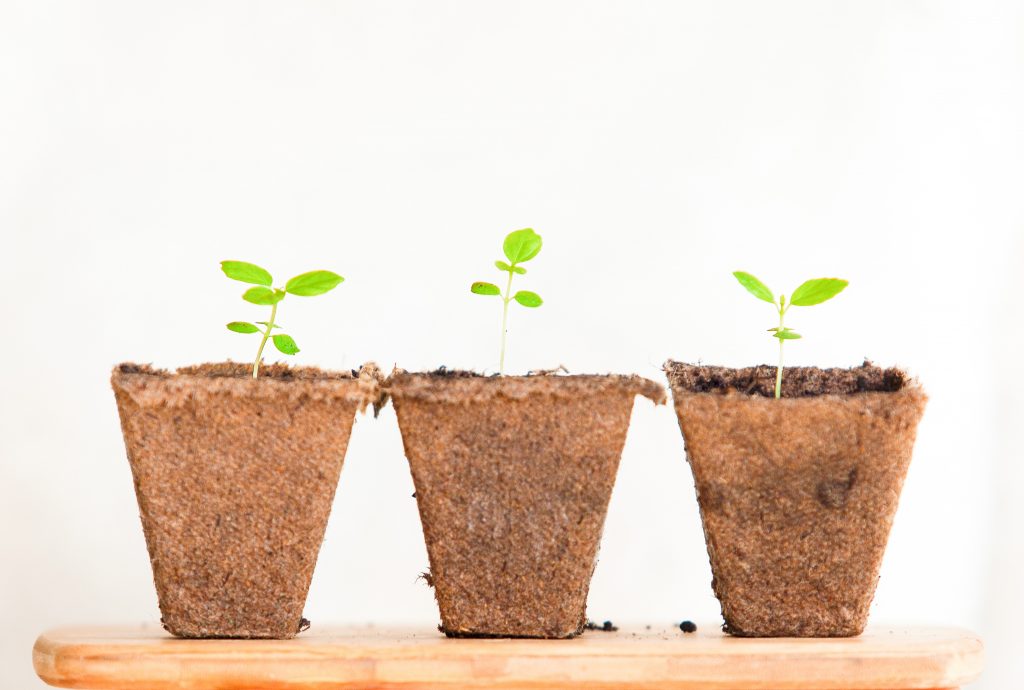 We had big plans for Earth Day, including some video content that we were SO EXCITED ABOUT.  But then "Safer At Home" orders were put into place and, well… you know the rest. 
Life looks entirely different than it did six weeks ago. As a society, our priorities have shifted. We've been endlessly inspired by the amazing, earth-friendly things our community has been doing: planting, meal planning, repurposing, reducing waste… the list goes on. And so does our gratitude to everyone out there who is taking care of themselves, their families and this amazing world we live in (even though we can't experience as much of it these days).
As we spend almost all of our time inside our homes these days, we're even more aware of what we're using and how we're using it. We're certainly not perfect when it comes to sustainability — there's a lot we've yet to learn and do! But today we wanted to share a few of our favorite sustainable product swaps and how we're using them these days.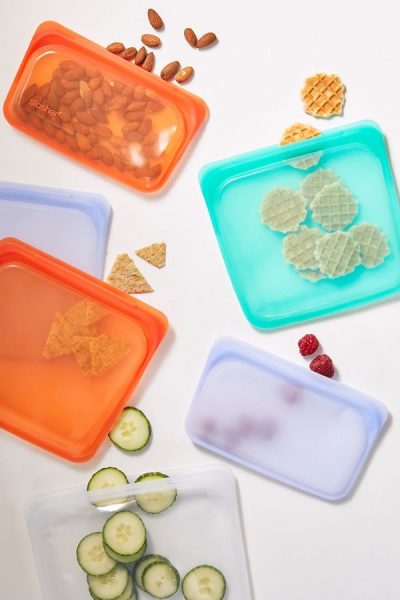 Please note that we are using affiliate links but that this is NOT a sponsored post.  We truly use and love each of the following products! For more information, please read our disclosure agreement.
Three meals a day at home every day of the week means that we have a lot of leftovers in our refrigerators — but not always enough space for bulky food storage containers.
Our families also have a seemingly constant need for snacks. And if snacks are not finished, they are certainly NOT wasted!
This is where Stashers Bags come in.
Our friends at The Container Store gave us the opportunity to test these out last year, and we promptly fell in love!
They are easy to pack in lunchboxes (think: an alternative to Ziplocs) and provide a wonderfully slim storage profile. We definitely love glass containers and jars — but sometimes we need that extra space!
Also… you can freeze them, boil them and bake them! Honestly, we're not even sure how that's all possible, but these bags are amazing.
When it comes to food leftovers, we're deeply committed to not letting any item go to waste — that means a quarter of a tomato, half an apple, that last bite of cheese — but again, we're a bit low on extra fridge space these days.
We were gifted Bee's Wrap earlier this year, and they have been a lifesaver (think: a Saran Wrap replacement).
You simply warm it up in your hands and then wrap or cover whatever item you're saving. It washes really easily and air dries. Plus, it folds up much smaller than a box of plastic wrap!
When you just can't convince yourself to move that bowl of food into a glass container, just wrap this over the top!
Kitt has been using both the wool and the plastic dryer balls instead of dryer sheets forever, and the swap was a particularly easy one.
She stores hers in a lovely glass container (because her laundry room organization and style are completely on point) and just tosses in one or two every time she dries a load of laundry.
For those of you who love the cozy smell of dryer sheets… Kitt has a little bottle of essential oil that she keeps nearbuy, and she adds a few drops to the wool balls when she wants an extra-fresh scent.
This isn't quite a swap… more like a fun investment!
Gardening is a new venture for Kitt's family, and it's currently providing a nice outdoor activity when staying inside the house feels almost impossible.
Plus, it's a nice reminder for our kiddos that food doesn't just magically appear in the grocery store!
There are tons of amazing options for planters out there… we'd love to hear if you have any favorites! We're sharing the VegTrug, which is the one that Kitt has been using to cultivate little seedlings that will hopefully produce some veggie goodness in the next few months!
These are a little tricky right now, as stores can't allow us to use our own containers (and rightfully so) — but when the time is right, we can't wait to use these again!
We simply store them with our reusable grocery totes so that they're always with us… and happily fill them up with healthy produce and bulk items.
Truthfully, these produce bags are a great reminder for us to shop the bulk section. And they make the process so easy — there's no need to bring bulky jars or deal with the tare… it's already on the tag!
We know this list is just a drop in the bucket when it comes to sustainable products and habits. But we also know that even small steps can make a lasting impact. So wherever you are on your sustainability journey, know that we're right here with you, learning alongside you and supporting any changes that you are making!
Please check out all these products below and inspire us by telling us about your favorite sustainable swaps!
Cover image by Daniel Öberg on Unsplash
---
For more inspiration, check out: