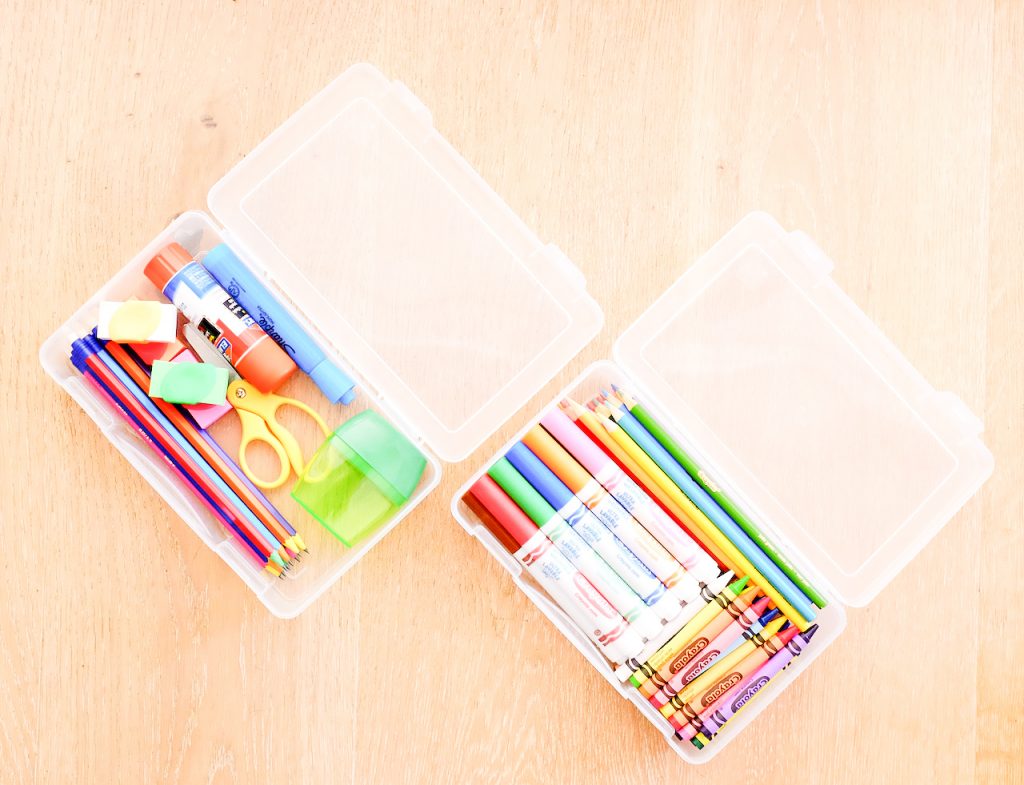 This month, we're partnering with a fantastic company, Iris, alongside one of our favorite fellow organizers, The Organized Mama, for a collaboration on some simple DIY solutions to help you prepare for the quickly-approaching back-to-school season. For those of you who haven't even wrapped your brains around starting school again, please do not worry: there is still a full month of summer vacation left. It's our nature to plan ahead — so these tips are ready for you to consume at your leisure (while you sip a cool drink by the pool?!)
If your households are anything like ours, the period of time from after school until bedtime can feel hectic and chaotic (we'd really like to channel some of this summer sweetness all year long). Naturally, we love any system that buys us a few extra minutes during an otherwise stressful part of our day — and helping our kids find more independence and responsibility is a huge bonus!
If your family's schedule functions similarly to ours, if might look something like this:
Attend after-school lessons
Corral children into house, empty backpacks, empty lunch boxes
Feed grumpy children snacks (watch them transform into happier children)
Oversee homework
Break-up sibling argument
Redirect back to homework
Make dinner
Eating dinner together
Clean up dinner
Oversee bath (read: shouting to the kids from the kitchen while you do dishes)
Oversee bedtime (ask children 3 times each if they brushed well)
Snuggle your kiddos (maybe briefly close your eyes)
Wrap up the 4,982 things that can only be done when children are sleeping
In short, our afternoons and evenings can lean toward exhausting and slightly crazy-making. However, we've found that the two following solutions have made our lives (and our kids' lives) just a little bit easier during this part of the day.
This post was created in partnership with IRIS and may contain affiliate links. For more information, please read our disclosure agreement.
The Snack Station
It can be an endeavor to create the a healthy, from-scratch, Pinterest-perfect snack that will make every child docile and agreeable, and let's be real… who has time for that?
Nor do we always have the energy to negotiate and clarify that Nilla Wafers aren't the best right before dinner, though we'll concede they are delicious.
Our solution is a "Help Yourself" snack station – filled with parent-approved and ever-available for the hangry kiddo.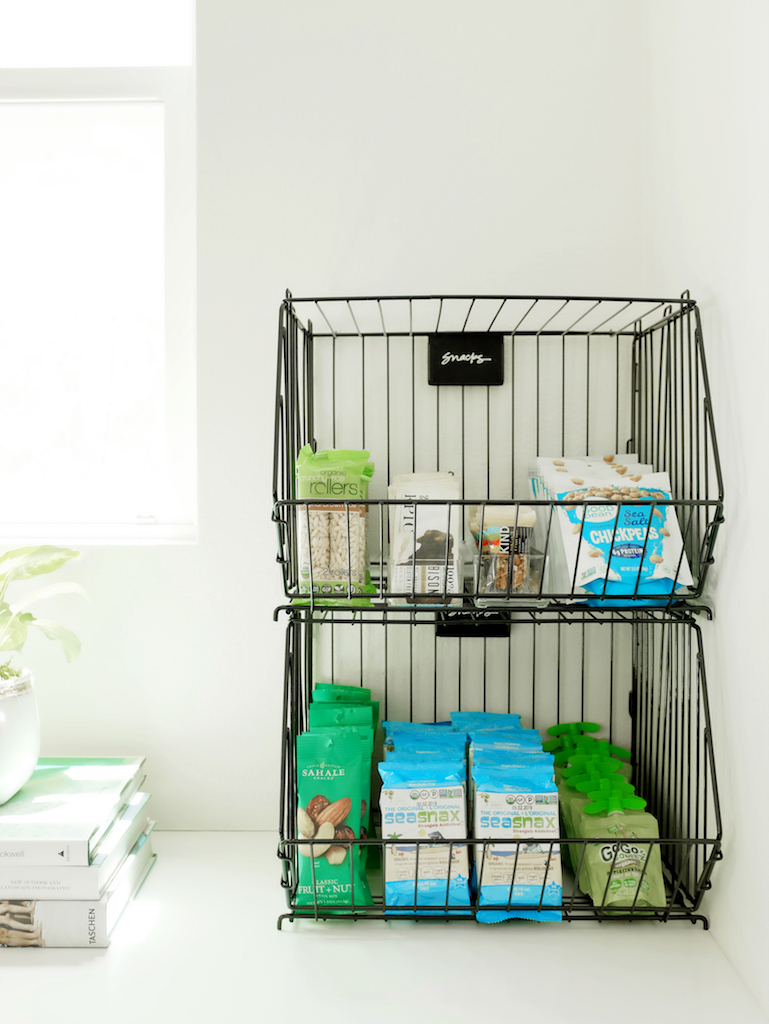 We highly recommend the Iris Stacking Storage Basket. Not only does it look lovely in a pantry or on a countertop — but it's a space-saving storage solution that allows for easy accessibility.
For a distraction-free snack experience, (we parents completely know that opening the fridge and pantry can truly complicate the conversation of what healthy options are available that can be served quickly or on-the-run), we keep our "Help Yourself" stations in a designated space in our kitchens and only include packaged snacks that we approve of. These snacks can be enjoyed at home, on-the-go and can be added into a lunchbox in a pinch! A few of our favorite are listed below…
*Please note that we also keep fresh produce within our kids' reach in our kitchens at all times. These are "anytime snacks" and can be enjoyed in lieu of or alongside a packaged snack. We like to call this "healthy snack merchandising."
Snack time… check!
The Homework Box
Are you ready to eliminate the daily digging through backpacks or sorting through your supply of art supplies?
We endeavor to keep homework time as easy and streamlined as possible, and creating these boxes for our families has been a huge help. A nod again to Iris, who has created a durable and stackable Modular Pencil Case – it's one of our favorites!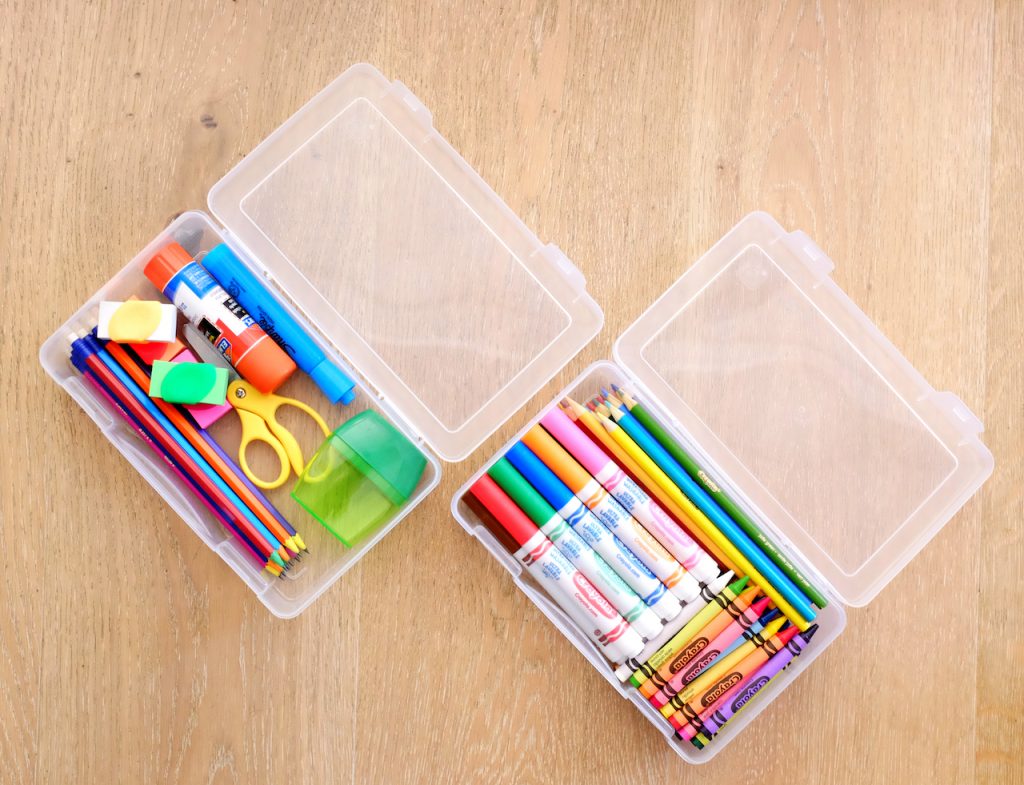 So here's the gist: each kid gets their own box, with all the homework supplies that they might need, from safety scissors and glue to pencil sharpeners and erasers, we put everything in each child's container. This eliminates the (legitimate) need for our kids to get up from their workstations and minimizes the possibility of sibling rivalry because one child "stole" another child's highlighter. In addition to this simply being handy, we find our kiddos are so much more accountable for their work when they can set themselves up and manage their own supplies.
The boxes are labeled with each child's name (we let our kids label and decorate their own boxes so that they would feel more ownership), and are stacked — because these particular boxes stack beautifully — in the designated homework spot for easy access. We're all about ease and practicality over here, if you haven't noticed!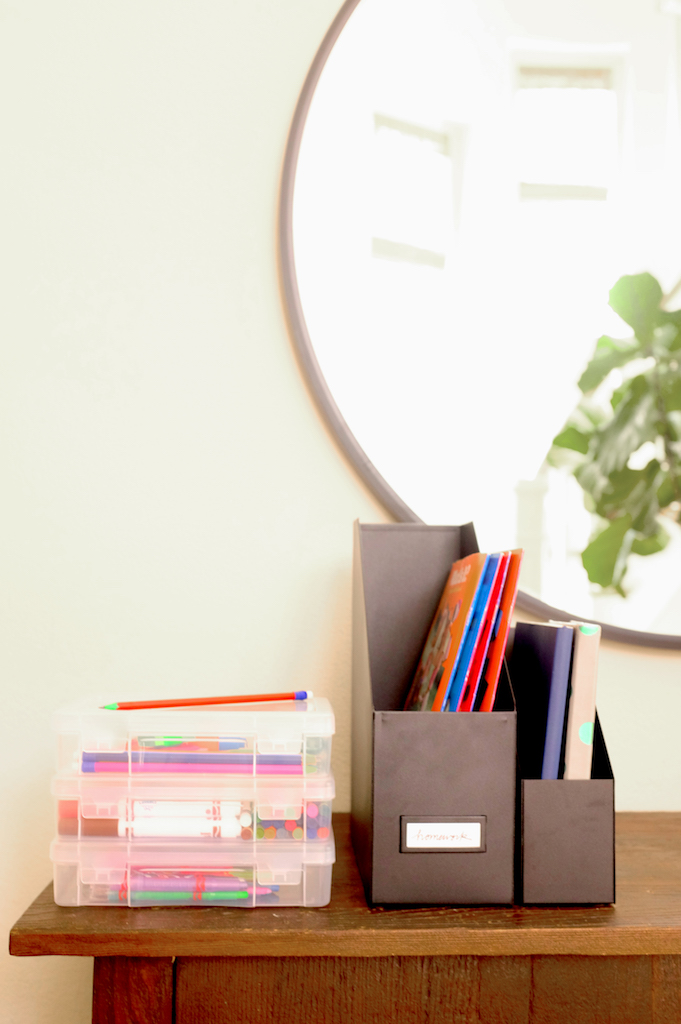 We use the exact same Modular Pencil Cases to create communal boxes filled with coloring supplies. We find that markers, crayons and colored pencils are more easily shared — and we love the consistency of the storage boxes, as they are all being stacked together in one place.
Homework… check!
It's really this simple. By creating two supply stations — one with healthy snack options and one with homework necessities — we have given our kids a bit more independence to empower them to stay on track during the school year. If your family is also looking to streamline afternoons a bit more, grab your Iris items and go forth!
For even more inspiration on how to create that perfect DIY snack area, check out the How to Create a Snack Station For Kids post from our friend Jessica at The Organized Mama!
---
If you like this blog, check out the following for more inspiration: