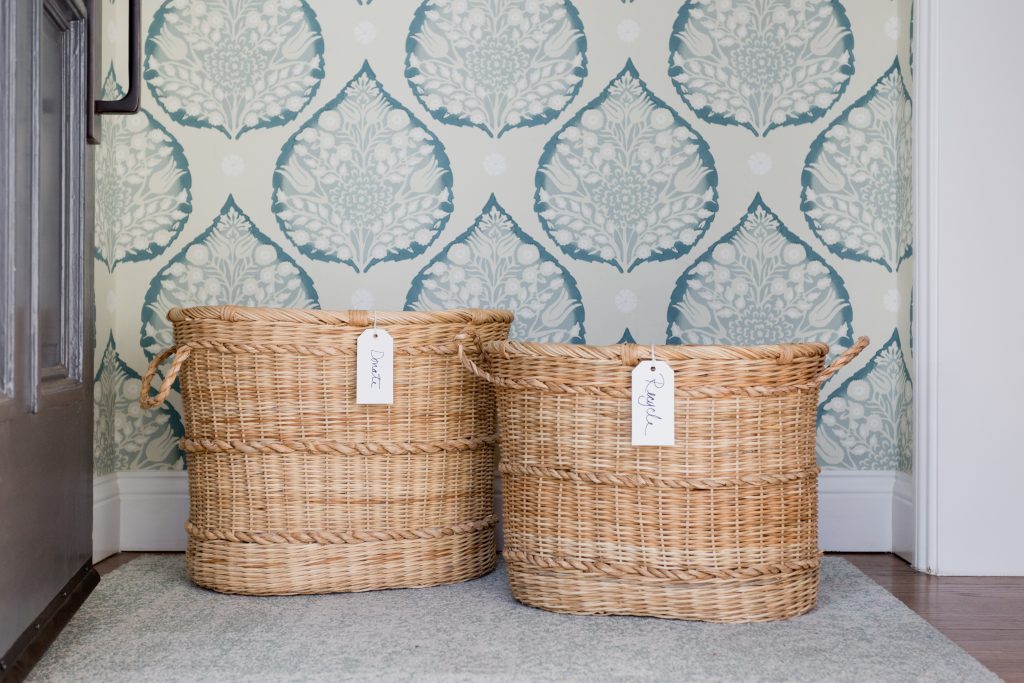 Nope, that's not a typo! We're here to present a fully positive spin on donating goods. Our goal is to assist you in finding a responsible re-home for your items.
At Practically Perfect, we're huge fans of overhauling spaces, deep cleaning, spring organizing, organizational maintenance… we could go on and on. These projects almost always begin with editing belongings. And once we've collected a pile of donations, the next step is figuring out the appropriate place to pass them along.
Our team has created a handy donation guide, which references some of our favorite local and national organizations. But by no means is this list exhaustive, so if you have a favorite drop-off spot, keep using it and send us a DM on Insta (@practicallyperfectla) to let us know too!
For the full local and national downloadable guide, check out our resources page!
Below are some quick tips to making donation easier and more successful…
DO – DESIGNATE AN IN-HOME DONATION BOX
One Practically Perfect tip is to keep a basket/bin for donations (as shown above) in your home at all times, so that you can be adding things anytime that you decide they aren't needed/wanted. You don't have to wait for a special season or project to edit… it can be ongoing!
DO – GIVE AWAY TO FAMILY, FRIENDS, FRIENDS-OF-FRIENDS
Host a clothing swap, put out an offer on social media or post a free ad on Offer Up or Craigslist. All of these are wonderful ways to get items out the door!
DO – THINK LOCALLY
We encourage you to consider the most responsible donation options. One great way to do this is to ensure that you're donating to organizations that allocate resources in your own city. This will cut down on transportation costs, as some organizations send used goods out of state/out of the country.
Check with nearby shelters, transitional housing organizations and churches – they can often directly allocate your donations, especially when it comes to furniture and household items.
Local libraries are a fantastic place to donate your books and audio collections, neighborhood schools might make great use of your extra office supplies, and some pet shelters will happily accept used bedding and towels. (Just imagine your favorite blanket being repurposed as a puppy bed and tell us that you don't want to donate it right now!)
DO – GIVE THE GOOD STUFF
'Gently Used' is the key phrase – make sure that what you're donating is something someone else can really use! Give away clothing that is clean and folded, wipe down household items before tossing them into your donation bin, and spend a few extra minutes tracking down the missing pieces of that toy set. You'll feel great about saying goodbye to your items in this kind way — and so will the recipients!
DO – REPURPOSE
For hard-to-donate items, consider whether they might be able to have a second life somewhere else in your home or garden. Old towels can become great cleaning rags — and various treasures can become supplies in your craft box!
If an electronic item has made its way into your donation bin due to a small technical issue, check out your local repair resources! One of our FAVORITE options is Repair Cafe – they're a nationwide volunteer-run organization. For no fee, you can bring in your finicky toaster/vacuum/bicycle/you name it, and they can either assist you with the repair or their specialty volunteers can tackle it for you! They can also help you recycle a non-repairable item, as well. (Los Angelenos, there are two locations in the city!)
We hope you're feeling empowered to get more familiar with the local options in your city. Here's to really upping your donation game!
---
For more inspiration: