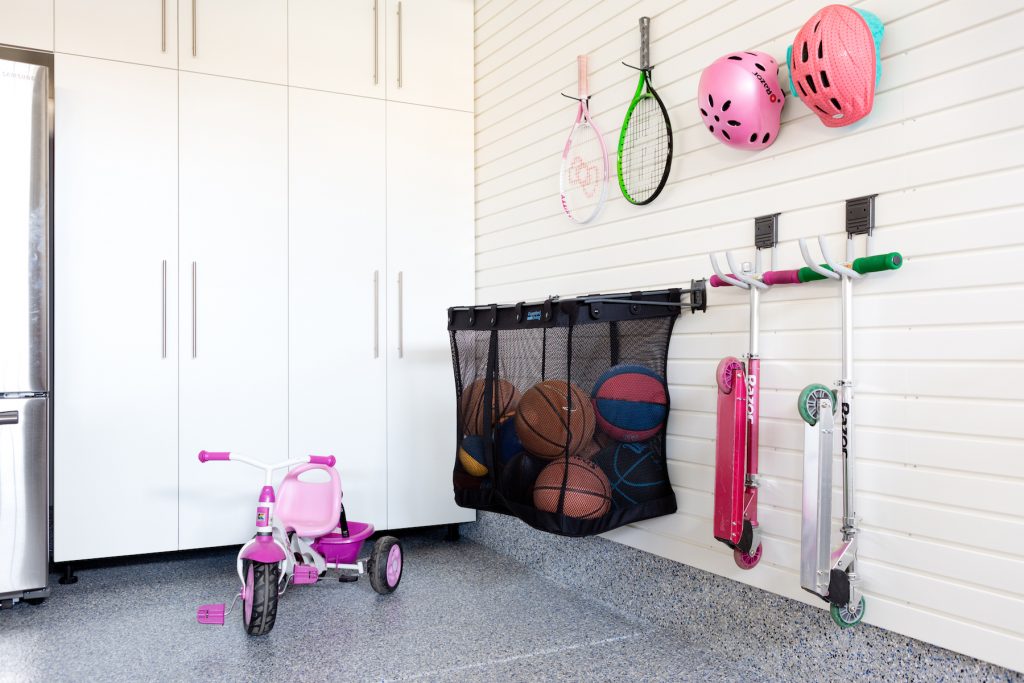 Garages often become a dumping ground for a variety of items, and summer is the perfect time to clear the piles that have accumulated all year long and make space for summer fun. The weather is warm, so it's an ideal time to be out in the garage. The days are longer, so you'll have more time to dive into your garage organizing project. And, it's time to pull out all of the gear for those fun, seasonal activities such as camping, biking, beach trips, home maintenance and landscape projects, anyway!
As you plan your garage design, consider which items you use most often. Consider hanging items that require regular and quick access on slatwalls. Such items might include bikes & helmets, sports equipment, lawn chairs or ladders. Items that are pulled down only once a year, such as holiday decor, or even less often — such as memorabilia and tax archives — can be stored in cabinets or on overhead racks.
Once your design has been installed, it's time to layer in an organizing system…
Before you get started, set the mood! We recommend opening the garage door to let in some fresh air, grabbing yourself a cold beverage, blasting some of your favorite music and then diving into the sorting process. It's helpful to make three piles — one for items that you'll be keeping and storing in the garage, one for items that you'll be donating and another for items that can be recycled or discarded.
Determine which items might require containers. Clear bins help you see what you're storing so that you'll be more likely to find what you need quickly, use what you have and avoid over-buying items that you've misplaced or forgotten you own.
Take the time to store items thoughtfully. Untangle those holiday lights now, and you'll thank yourself come December! Consider storing archival items, such as photos or other memorabilia, in specialty bins that are weathertight for safe-keeping.
Labeling can be a great way to encourage organizational maintenance in garages. For bins that will be stored in more out-of-sight areas, consider color-coding your bin lids and/or labels for quick access… red for Christmas, blue for Hanukkah, orange for Halloween. When bins and cabinet shelves are labeled, everyone is held more accountable for placing items back where they belong — and then hopefully the piles won't accumulate again by next summer.
Happy Garage Organizing!
---
For more inspiration, check out: