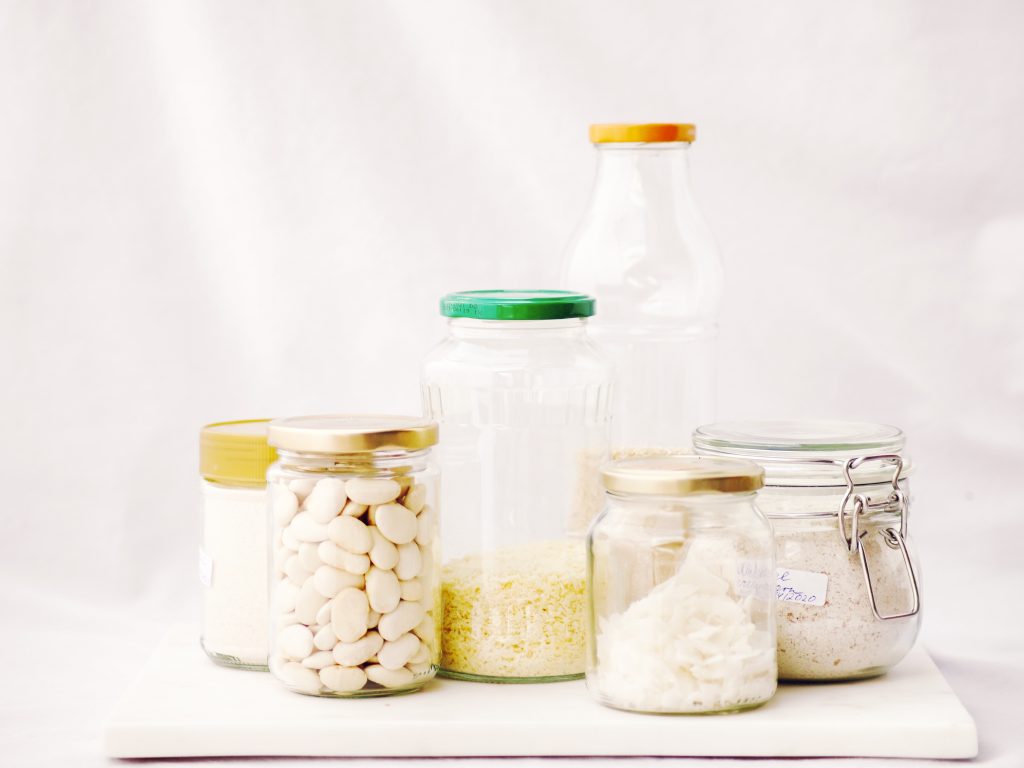 Before we dive in…

We definitely take comfort in knowing that our pantries are full, and we're DEEPLY GRATEFUL for this, as we know that not all humans are so blessed. If your pantry is already stocked, perhaps consider donating what you can to those who cannot afford to buy anything at all, let alone extra.
Many of us have started stocking our pantries, as we feel the desire to be prepared more than ever. So last week, we put out a blog on the best items to keep in your pantry – if you missed it, click here to read.
As organizing experts, we know that more items in any space = means more possibility for disorganization.
So this week we wanted to talk about how to manage your backstock, to ensure everything gets used (and nothing is wasted!)
Some links in this post may contain affiliates. For more information, please read our disclosure agreement.
STEP 1: INVENTORY
This is an imperative step to take, in order to ensure that none of your pantry contents expire. Please, be sure to know what you have!
You can make a master inventory spreadsheet (which can be very helpful with meal planning) or simply take a mental note as you go through your items.
Note those expiration dates, as well. Those will be important for Step 3…
STEP 2: CATEGORIZE
Keep like items together. Try your best, with the space you have, to store similar products together. Your flour + sugar shouldn't really intermingle with your snacks or pasta.
If you have a smaller pantry space, consider creating broad categories:
Baking
Breakfast
Dinner
Snacks
Spices
And if you have more space to work with, or a lot of bulk products, you can get more specific:
Beans
Condiments
Grains
Nuts + Fruits
Sauces
Sweets
STEP 3: CONSIDER PLACEMENT
Items that you use often, or want to use often, should be at eye level or in the most convenient place for you to access.
Specialty items can live up high or in harder-to-reach spots.
If you have kiddos that can help themselves to snacks, make sure you place those in an accessible area. And vice versa… if they need permission for certain items (sweet treats, perhaps?) consider placing them less within reach.
And if you have items that will be expiring soon, make sure those are the front of their category, to ensure that you get to them in time.
You can even create a section for items that must be used in the near future!
STEP 4: CREATE VISIBILITY
This is where pantry organizing products come in very handy — but rest assured that you can do this with whatever you have in your home, as well.
Storing bulk goods in clear containers means that you're less likely to run out, as you can see how much you have left. We definitely love these baking containers, but repurposing mason jars and any extra food storage containers (AKA Tupperware) is great, as long as they are air-tight.
Also, we highly recommend removing packaging from individual snacks and storing them in bins or baskets. It never feels good to pull out a box of granola bars only to find that there's only one (or none!) left.
STEP 5: MEAL PLAN
We completely understand that this requires some pre-planning and prep work that not everyone has the bandwidth for. But if you're committed to using what you have and not letting things go bad, this can be a great way to help with that goal.
Take a look at your inventory, determine what needs to be used, and consider what you can make with your ingredients.
If this is feeling like too much — don't worry! Our awesome friends at Prescribe Nutrition are offering their Meal Planning Subscription for free, for the next 30 days.
Check out recipe blogs and other planning spaces. There's even a site called Supercook that gives you recipes based exactly on what you have on hand!
STEP 6: DONATE
We've all found items in our pantry that were perfectly fresh, but that we knew deep down we probably wouldn't use.
Food scarcity is a problem for so many people, and food banks and shelters are always looking for donated goods – especially right now!
Consider offering any food items that you can't or won't consume to a place where they will absolutely be used. You can check with friends and neighbors, as well.
We wish you loads of good luck on your pantry organization journey!
XOXO
Joni + Kitt

Cover photo by Yulia Khlebnikova on Unsplash
---
For more inspiration, check out: