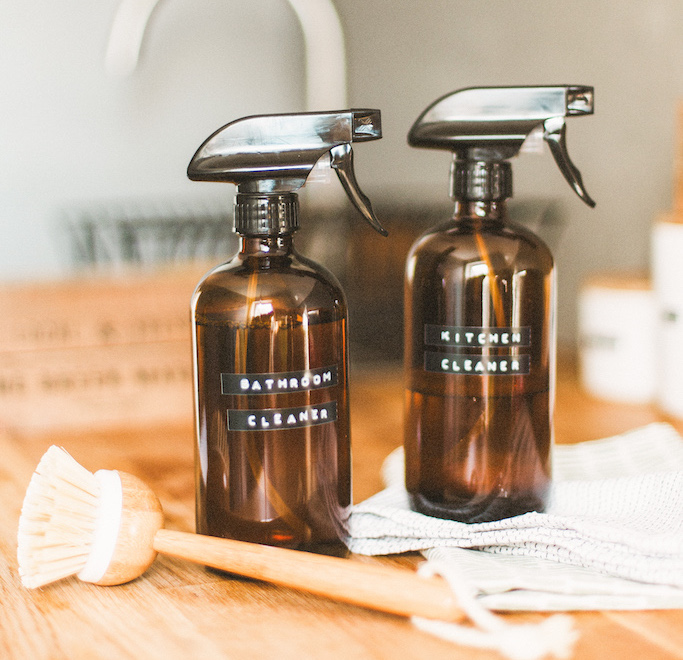 Unless you're Monica from FRIENDS (or Joni from Practically Perfect), you probably don't really enjoy cleaning your pantry. But… it's SO NECESSARY.

Think about it… we're in and out of our pantries almost every day. Items spill, dust builds up (and at this point, we all know what dust is made up of) and over time, it simply gets grimy.

In honor of Kitt's total pantry transformation (be sure to watch below), we're offering our easy guide to get your pantry sparkling clean BEFORE you organize it.

You can do this as often as you like. It might be a monthly activity, if you're like Joni — or 1-2 times a year, if you're more like Kitt.

Empty

That's right! Start by emptying your pantry space of EVERYTHING. There are two reasons for this…

1: This is not the time to wipe around things — it's Spring Cleaning! We want you to really see what's under the jars, behind the boxes and in those corners.

We recommend using your kitchen counter or a nearby table as a holding zone for everything that's currently in your pantry.

2: When you empty everything, you'll find out exactly what is in your pantry. As you go along, take inventory and do some mental meal prepping, planning dishes around items that need to be used up before they expire.

You're also bound to spot things that need to go. You'll inevitably find a can that's far exceeded its shelf life or cookie so stale that you could use it as a frisbee.

Side Note: We each have our own rules around expiration dates, and that's OK! But if you're squeamish about even considering eating products past their dates, here's a little info from our friends at USDA Food And Safety Inspection:
Confusion over the meaning of dates applied to food products can result in consumers discarding wholesome food.
In an effort to reduce food waste, it is important that consumers understand that the dates applied to food are for quality and not for safety. Food products are safe to consume past the date on the label, and regardless of the date, consumers should evaluate the quality of the food product prior to its consumption.

Do what feels best for you — and let's continue!
Declutter

Our rule for your pantry is the same as any other space in your home… if you can't or won't use it, you should lose it! You may have food items that were gifts or part of meal plans that you're no longer on. It's OK to pass them on.

PLEASE consider donating any unexpired items that you're letting go of. We have a national donation list for some recommendations.

Here are a few questions to consider when you're decluttering your food:

Do I enjoy this item?
Will anyone in my household eat this?
Are there recipes I would use this in?
Part of the decluttering process for us is also clearing out any empty or near-empty boxes and bags (go ahead — eat that last handful of popcorn!) to create a little extra breathing room in your pantry.

Once you've enjoyed a little snack, get ready… the really fun part is next!

Clean

Arm yourself with the following:

A bucket of warm, soapy water or a non-toxic spray cleaner
A vacuum or broom
Rags or cleaning cloths
Baking soda (if you have any sticky spills)
We suggest vacuuming first to get rid of all the crumbs and pantry debris. This ensures that nothing will get pushed back into the corners.

Thoroughly wipe down all of the shelves and racks. Add baking soda to any honey or oil spills, let it sit for a few minutes and then wipe up with a cloth.

Thoroughly dry all of the surfaces, and then head to your holding zone! Wipe down any jars and containers that are sticky or dusty, and be sure to clean the underside of them as well.

Once your pantry and food items are all clean and dry, you're ready for the next step…

Refill + Restock

Replace all the remaining pantry items back onto your shelves.

This is a great time to consider grouping and categorizing your items, which will set you up for easy organizing down the road.

Be sure to restock anything that's running low, especially if you're going to be reworking and adding organizing products to your pantry. We always recommend organizing with your usual food supply, so that everything you generally keep on hand has a home in your pantry.

Finally, close the door and call it a day!

If you want to know more about grouping, categorizing and organizing your pantry, stay tuned.  We've got more pantry content coming soon! 
---
For more inspiration, check out: