---
This month we partnered with The Container Store, who sent us some awesome products, to show you how we organize and maintain a very often-used yet underappreciated space… the bathroom!
No matter the size or layout of your bathroom space, having it thoughtfully organized will inevitably shorten your morning and bedtime routines, give you an easier start and a more peaceful end to your days. And who doesn't want all of that? Check out our tips below!
This post was created in partnership with The Container Store and may contain affiliate links. For more information, please read our disclosure agreement.
REMOVE EXCESS PACKAGING
Removing items from their original packaging and decanting them into containers is one of the most simple ways to make your space more aesthetically pleasing. And it's practical, too! Decanting can often be a space-saving tool and is always an excellent way to see when you're running low on your essentials. Don't let those cotton balls get squished behind everything else… put them on display and let them shine!
INSERT THE INSERTS
Drawer inserts are our absolute favorites, and we use them in every room of the house. They allow us to maximize the space and keep items contained. Instead of letting every drawer become a catchall, use inserts to give every item a home. Maintaining organized drawers will be so much easier!
USE VERTICAL SPACE
Whether it's inside of cabinets, on countertops or under the sinks, many of us have space that's being underutilized. Use stacking drawers to store the odds and ends that are often left loose, and you'll never go hunting for those nail clippers or bobby pins again!
KEEP ESSENTIALS ACCESSIBLE
Designate a drawer or an area of your cabinet for everyday essentials — maybe that includes your moisturizer and lip balm, your everyday makeup collection or your favorite hair accessories. Keep these items in a divided organizer or contained in drawer inserts in the most easily accessible spot in your bathroom so that all your necessities are where you need them, when you need them. We want your morning routine to be flawless!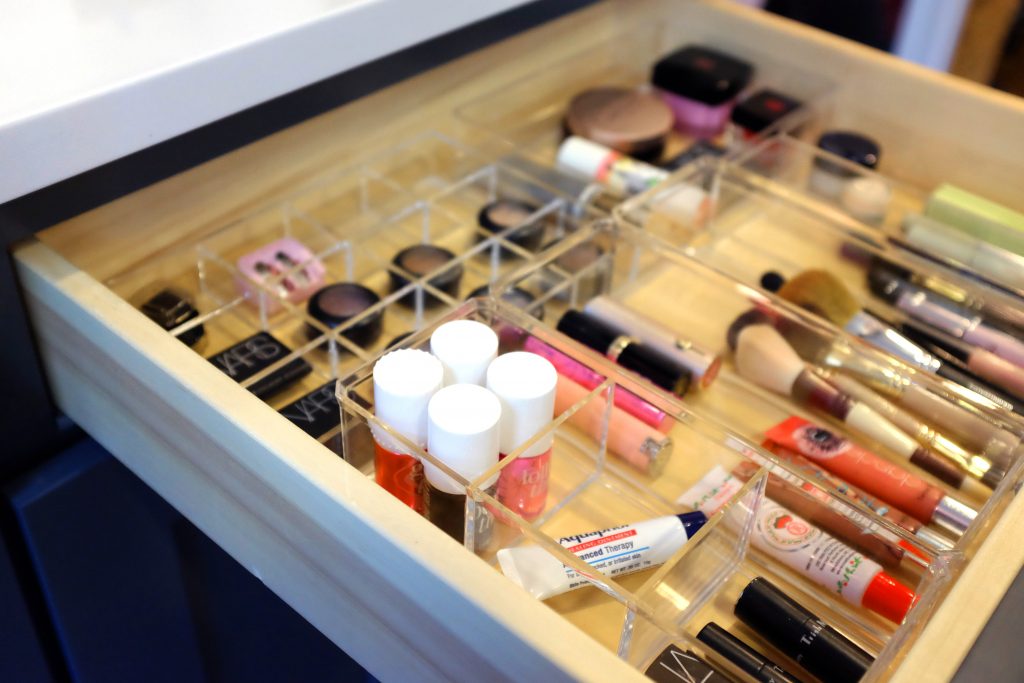 DON'T FORGET TO EDIT
We've all held on to that makeup sample or free hair product with the good intention of using it, only to find it under our sink two years later, still unopened. And how many of us really use those hotel soaps that we brought back home? The key is to keep only the products that you use and love. Remove the products you don't need or use and those that have expired.
Hint: Check the back of each product to see how long it's fresh for! If it needs to go – recycle it safely. You can click here for Terracycle's beauty program and check Origin stores near you for safe drop off of any beauty products.
And remember that you can donate the unexpired products to a local shelter!
MAKE IT PERSONAL
One of our personal favorite tips is keeping feminine products in a divided bin or spin tray in a space where it can be accessed immediately. We suggest temporarily storing this setup near the toilet for certain periods (see what we did there?!) of the month, even if you tuck it away in another spot for the weeks in between. And don't forget — decanting your products makes it very easy to see when it's time for you to stock up, so you'll never be caught without just what you need!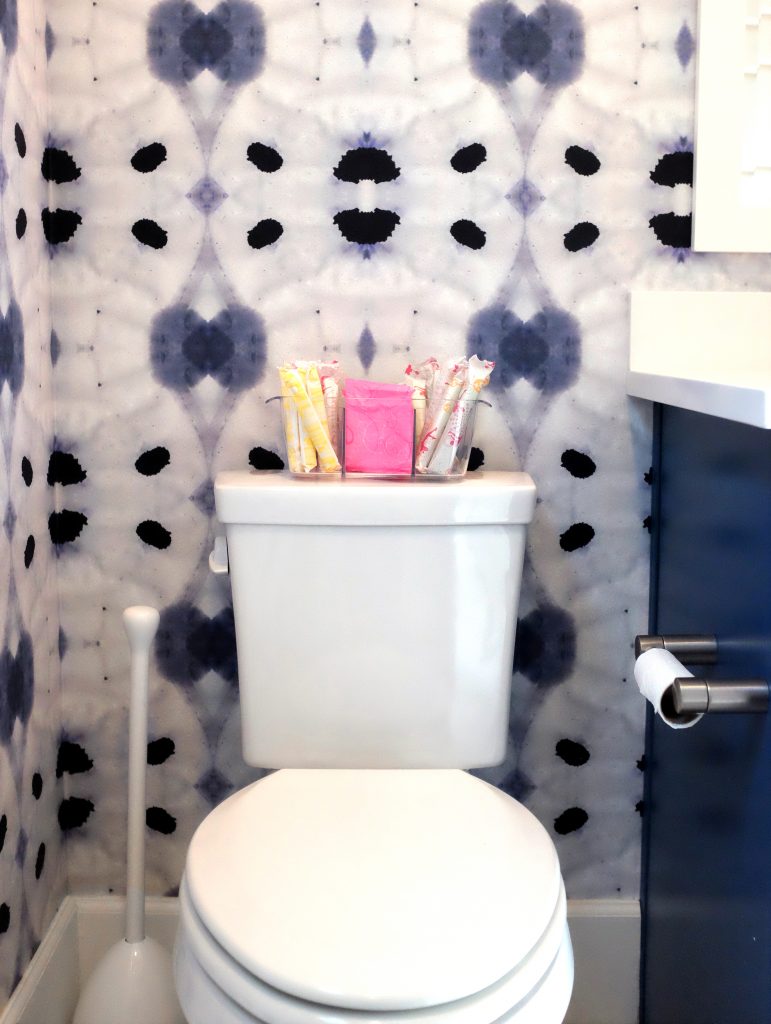 DON'T BE AFRAID TO DISPLAY
No matter what it is, we know that people use what they see. If you have a beauty product or makeup collection that you use often or want to encourage yourself to use more, don't be afraid to show it off! An acrylic palette organizer or set of drawers works wonderfully to display your products and ups the chances that you'll use (or at least see!) everything that you have.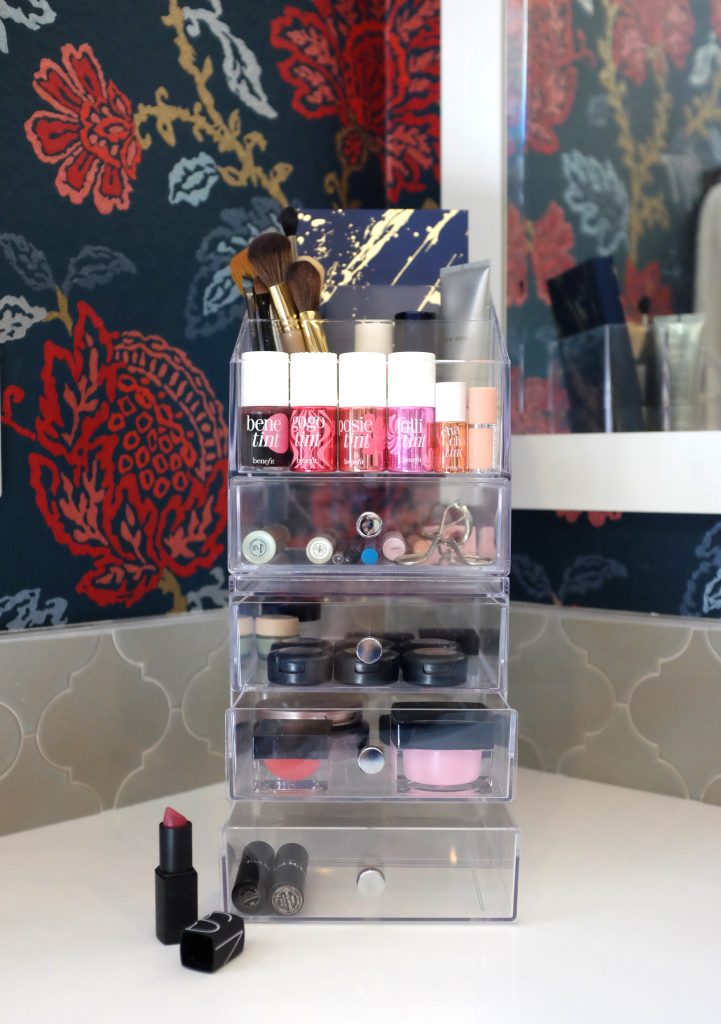 KEEP THE EMERGENCY SUPPLIES HANDY
Store medications and first aid supplies all together in one organizer so that everything is easy to grab in an emergency. Practically Perfect co-founders Joni and Kitt have separate caddies for children and adults in their own homes. If you have little ones, perhaps that is the solution that would be most efficient in your household.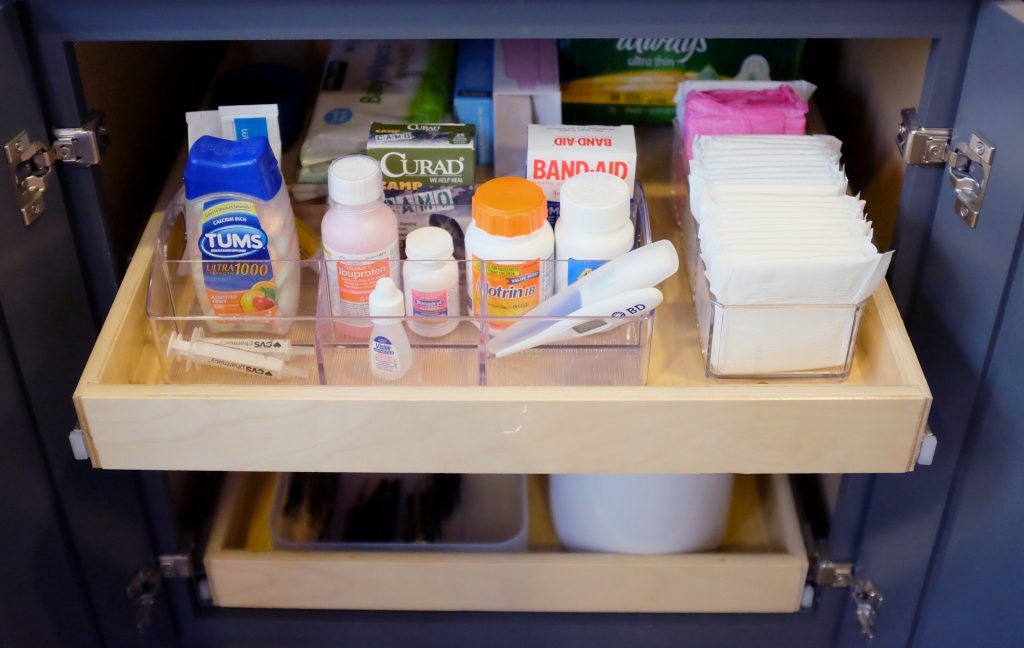 However you choose to update or recreate your bathroom space, we hope you find these tips to be practical and perfect!
See some of the items used below:
---
For more inspiration: