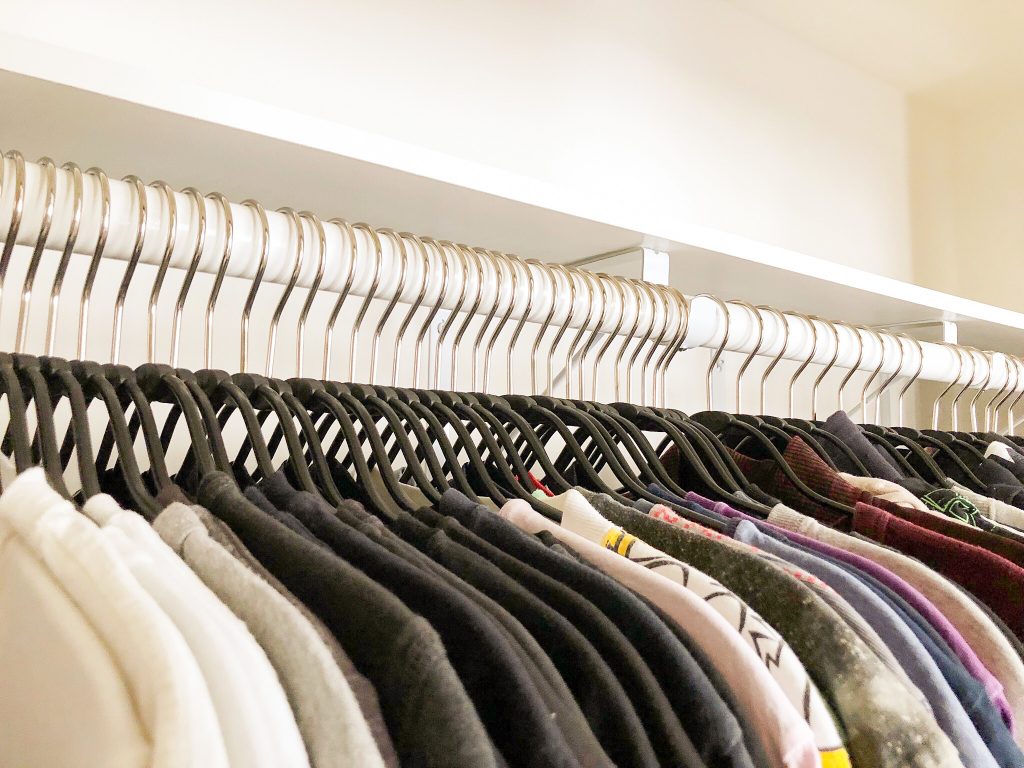 At Practically Perfect, closet organization literally thrills us! We find immense joy in:
the uniformity of matching + evenly spaced hangers
perfectly folded clothing placed thoughtfully into divided drawers
the clothing editing process that creates intentionally curated wardrobes
seamless systems
easy organizational maintenance
A few weeks ago, we had the pleasure of working with Safiya Nygaard and Tyler Williams again on a closet + wardrobe project. Check out the video here!
(If you missed our previous beauty organization overhaul with them, be sure to read about it or watch the video!)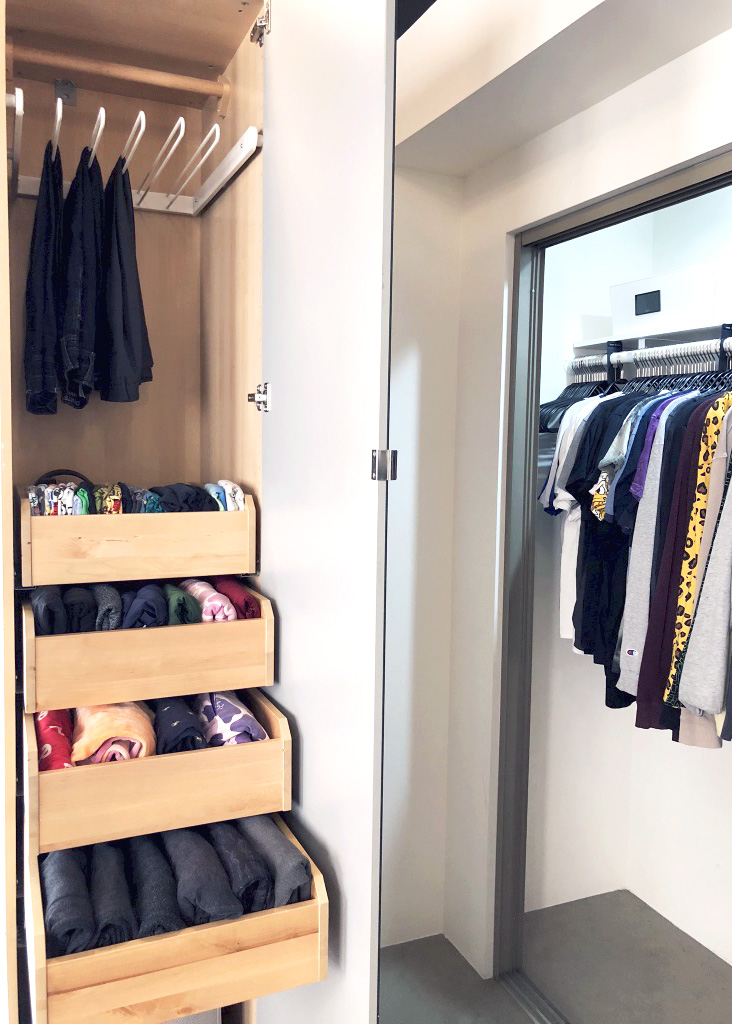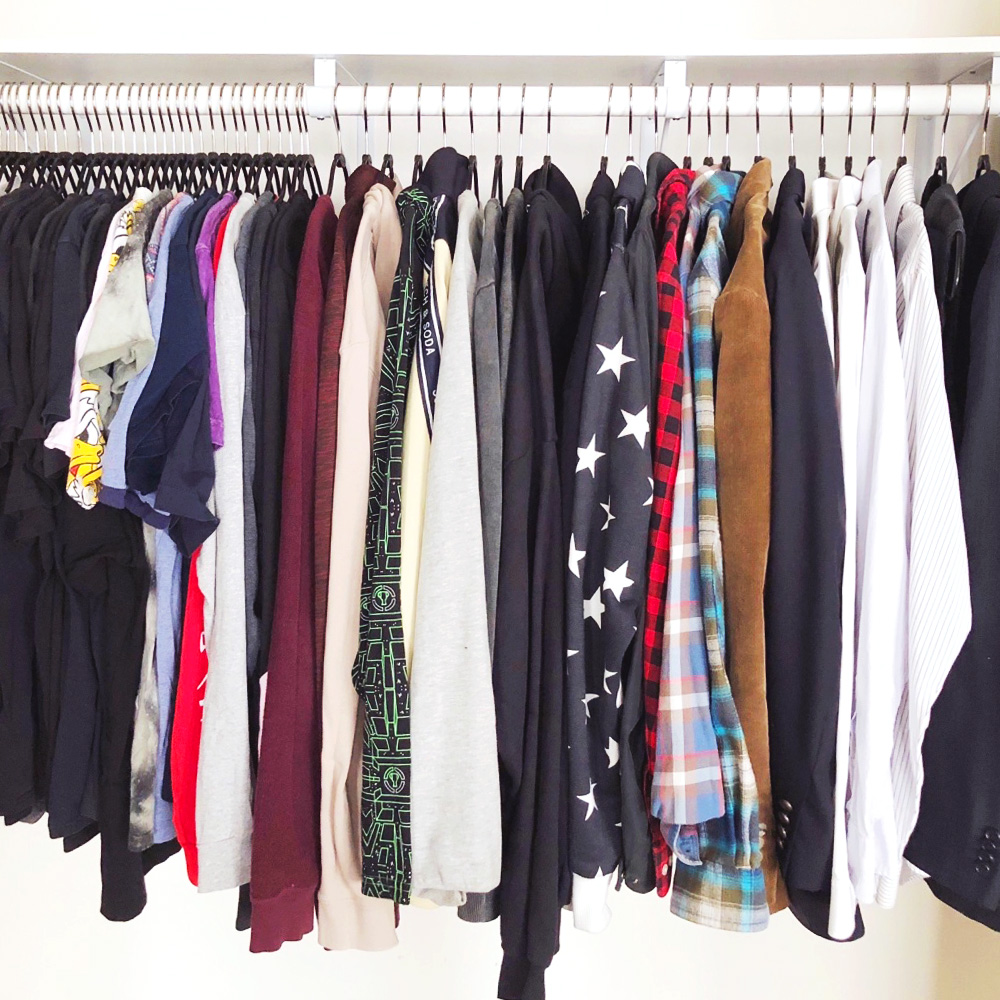 We had a total blast with these two — editing, organizing and wading through piles of lovingly accumulated clothing (6 huge bags were donated!) We were all reminded of how simply adding a few perfect products can create systems and also elevate the overall design and feel of any space.
For those of you who are ready to transform your own closets and want to "get the look," we're sharing a few of our favorite products + some closet basic organizing inspiration below…
Please note: some links in this post may contain affiliates. For more information, please read our disclosure agreement.
THE CLOSET(S)
Black Velvet Hangers – Safiya had these slim, velvet hangers on hand, which we love and highly recommend!
Bend and Hook Hangers –For those seeking a velvet hanger alternative, these are our absolute favorite. Slim, durable, and so snazzy looking. We used these in Tyler's closet to maximize space + elevate style.
Accessory Hanger – A clean + simple solution we used for belt storage.
Closet Rod Dividers – These dividers are generally available in white, but we sourced them in a beautiful shade of black, which was a must for Safiya's closet! These are most ideal for people with a variety of clothing categories.
Decorative Black & Natural Baskets – New on the market and a lovely way to elevate storage… water hyacinth has never looked so dreamy!
White Storage Bins – The Container Store's very own version of the white stackable storage bins we used for storage in both Safiya and Tyler's closets.
Clip-On Black Label Holder – The perfect companion to almost any storage baskets — so you will always know where everything lives.
Adhesive Black Label Holder – For the times when those clip-on labels aren't the most ideal solution.
THE JEWELRY DISPLAY
Gold Prisma Earring Holder – Our new favorite decor for earring storage — and a game changer for small spaces.
Gold Necklace Holder – We love how this product create some visual height and shows off any necklace collection.
Gold & Linen Tray – The classic display tray that we find so lovely and clean.
THE DRESSER
Adjustable Organizing Inserts – The perfect solution for Safiya and Tyler's joint sock collection… it has a movable divider!
Jute Zig Zag Baskets – A gentle storage option for any dresser extras — we used them for bra straps + cups.
Expandable Dividers – A solid choice to keep drawers organized, these create endless categories (but not really endless… be reasonable!)
LAUNDRY AND EXTRAS
Divided Laundry Sorter – We recommend dividing clothing by cleaning/care type to make laundry quick and easy. With wheels and removable bags, this sorter really hits the mark!
White Shopping Tote – For easy transport of laundry extras, delicates and more.
Wooden Step Stool – Always make use of the vertical space in any closet… and then make sure that everything is easily accessible!
Label Maker – Get extra with your organizing and invest in a label maker. Your closet will thank you, and your organizational systems will be so simple to maintain.
White On Black Label Tape – Because — what's a label maker without the tape?
We hope you're feeling inspired to tackle your closet now! And if you need any extra tools, feel free to check out our folding series videos on YouTube and learn to love the file-folding method!
---
For more inspiration, check out: