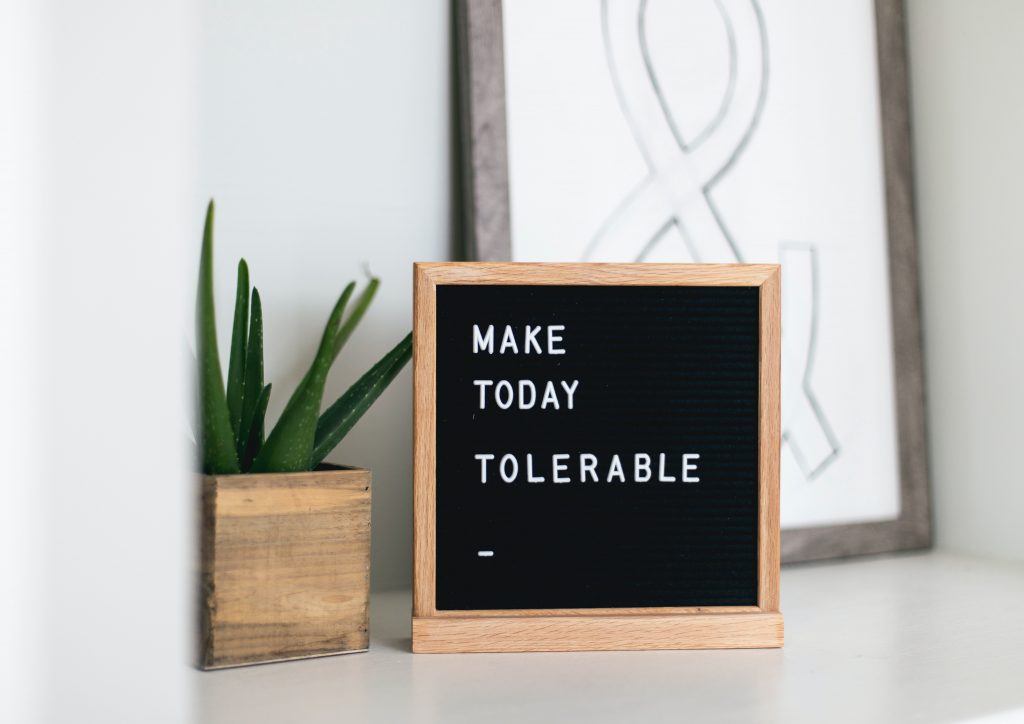 We've been quarantining for, what is it now, 400 days??  
Okay, we're actually only in month four. But for many of us, it feels much longer. Upon reflection, we feel that this may have a lot to do with the fact that being at home with our families for 24 hours/day really spotlighted the ways in which our partners and kids operate VERY DIFFERENTLY in our homes than we do.
This certainly wasn't a surprise for me.
My wonderful husband is an avid reader and news junkie. He's supporting about 6 different news subscriptions, and his side of the room really shows it (there are paper piles galore!)
And since Joni and I are both experts at living with people who are less particular than we are, we thought we might share a few tips about how to make the partnership between neat and messy a little bit easier.
Please note: some links in this post may contain affiliates. For more information, please read our disclosure agreement.
Talk Openly
Communication, of course… that always comes into play.
We're not going to pretend to be therapists, but we all know that communication is an important part of cohabitation. If you're clashing over household chores or spaces, a conversation is certainly in order — and the goal is to understand each other.
Articulate your feelings. Why is it important to you for particular spaces to be clean or tidy? How does it feel (and what happens for you emotionally and logistically) when they aren't?
And listen to the other side! Very often, our messy counterparts simply have a different tidying methodology or a way of seeing things that we may not have known about.
I see a towering stack of papers, but my husband sees specifically sorted sets of newspapers and articles he plans to read. And he does actually read them all!
Establish Neat AND Messy Zones
This is a strategy that we have both adopted and fully support:
Pick spaces that are ALLOWED to be messy.
We know that this might sound counterproductive — because isn't our goal here for people to be perfectly organized, neat and clutter-free?
I'm here to tell you right now that the answer is NO. That isn't the goal we have for ourselves or for our clients, and we hope it's not the goal that you have for yourself.
We absolutely want your space to be systemized — and look good to boot! — but we also want it to FEEL good and to be maintainable and functional for you. And that looks different for everyone!
So if you're a neat person partnered with a messy person, or two messy people seeking a little more order, here are some tips:
Each person in the house should have a few spaces that they maintain ownership over. These might be their dresser, closet, work desk… you get the picture. It should be a space that they can keep as tidy or messy as they want, because we all need spaces that just allow us to be us.
Personally, I like for my bedside table and bathroom counter to be uncluttered. This gives me less stress when I start the day, as they are the spaces that I see first every morning.
My husband's designated zones are his closet and nightstand. They look a little different than what I would prefer, but they're off limits to my organization because they work for him and make him happy. As a compromise, we have mutually decided that his side of the bedroom is the side farthest away from the door so that I'm not walking into our bedroom and seeing his style of organizing. Rather, it's hidden by the bed.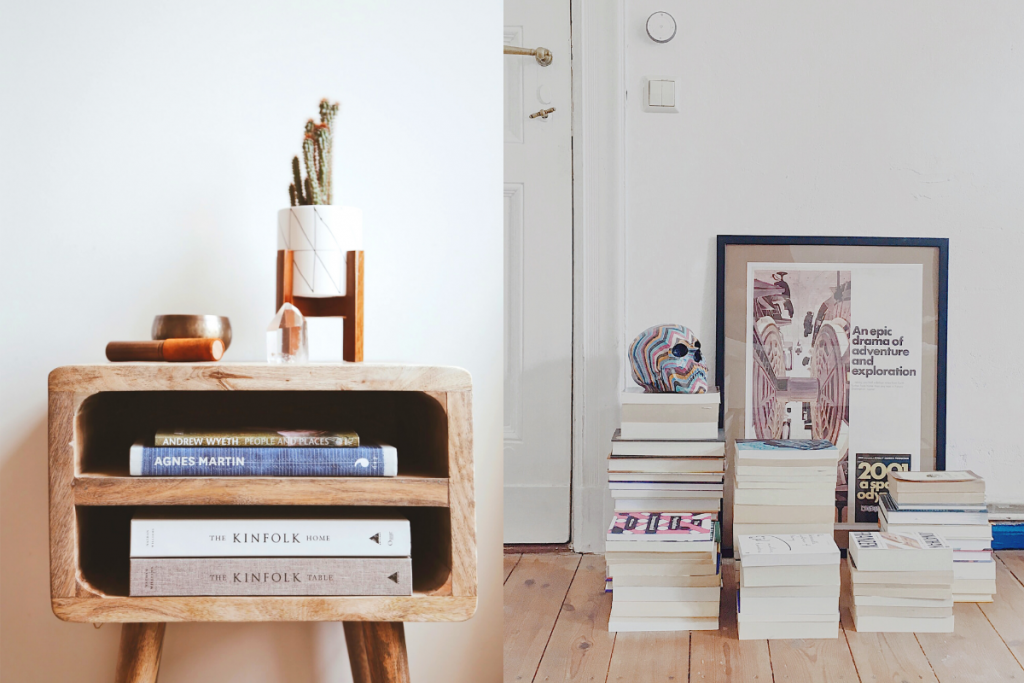 A "mine" vs. "theirs" example — photos by Avery Klein + Pavel Nekoranec on Unsplash
Remember, we all have different comfort levels. For some of us — Joni! — staying organized comes naturally. And for others, it's a monumental task. And that's OK. You might each have to adjust to meet somewhere in the middle.
You should also establish communal spaces that need to be kept to a standard that everyone agrees upon. These could be the kitchen, bathroom, living room area… And the standard should be clear. Maybe a coffee cup and a few books are OK to leave lying around — but paperwork, coats and snacks need to be cleared daily.
Divide + Conquer The Right Way
Many people have household tasks that they love and those they hate. For me, I abhor doing the dishes, whereas my husband doesn't mind. I love a perfectly folded basket of laundry, so I'm currently the laundry maiden in our home.
A quick suggestion for any parents here: teach your kids to do laundry! My oldest is in the process of taking over his own laundry, and the other two aren't far behind. Joni's kids are expert dishwasher unloaders. This is an entire blog post for another day… but please note that kids + tidying don't have to be like oil + water!
The tasks don't have to be split exactly evenly — let the chefs cook and the organizers organize! — but they do need to feel FAIR to everyone involved.
In your conversation, be sure to discuss the tasks that you each prefer. Should you encounter items that nobody wants to do, consider an "every other" system — or simply flip a coin!
Find Physical Solutions
Often we find that clutter or mess is created simply because there's nowhere for things to go, not necessarily because a family member is messy.
This might look like a shoe mountain by the door, a week's worth of jackets on the back of one chair or toys strewn across the living room like a trail of breadcrumbs. Sound familiar?
First, consider the area that is troubling you and see if you can identify the problem. Our keys, wallets and pocket change are getting dumped on the kitchen counter because we don't have a spot for them all.
Assess each room in your home and list out the spots that create the most friction.
Then start small and tackle some of the simple frustrations. Turn shoe mountain into the shoe zone with a storage bench or shoe rack — but DO consider your family members. If it's unlikely that they'll place their shoes onto a rack, maybe grab a large bin or basket, and let them toss away!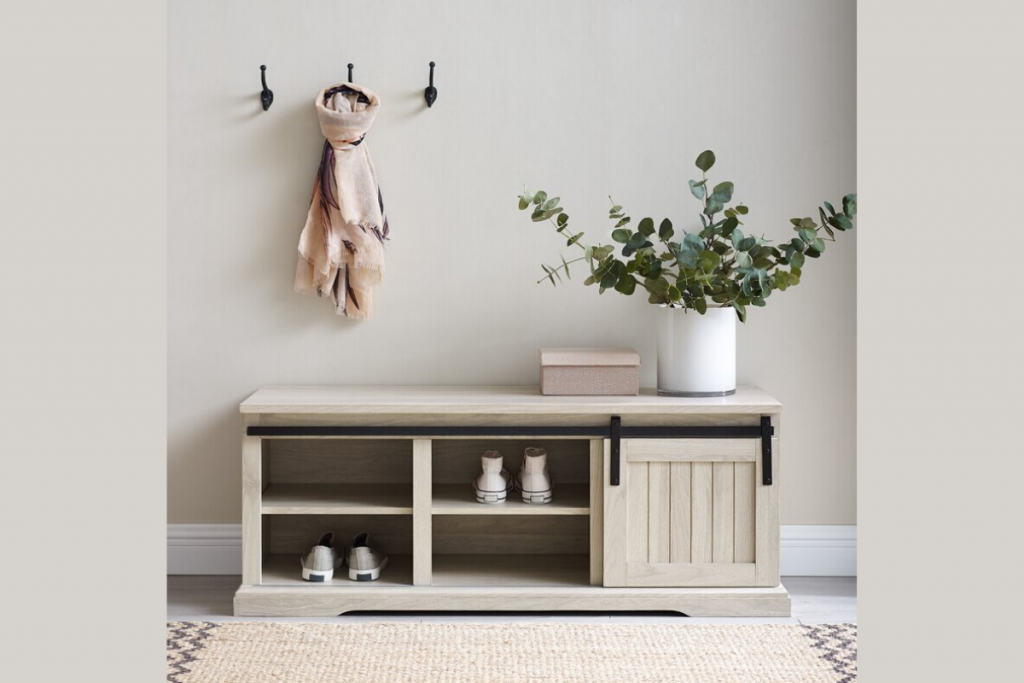 Shreffler Shoe Storage Bench – Photo by Wayfair
Maybe you need to add coat hooks to the entryway wall or at least ensure that there is enough space and hangers in your coat closet to accommodate everything.
Maybe you simply need a catch-all bin for the toys that collect in your living room so that they can be easily returned to the playroom or bedroom every evening?
There are so many options for organizing solutions — but understanding your family's particular challenges is the first step to a more peaceful space.
And if you're ready to throw in the towel… don't!
We understand that getting and staying organized can be a challenge — and sometimes we all need an extra hand. We're currently offering virtual sessions to help people identify, tackle and systemize the problem spots in their homes. Learn more here.
Good luck to all of our messy and organized readers out there! Please share any of your own challenges or successes with us below…
XOXO, Kitt
P.S. For some more "physical solution" offerings, some of our favorite products are below:
Cover image by Kari Shea on Unsplash
---
If you like this blog, check out the following for more inspiration: